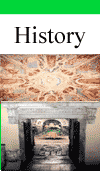 Æolia
In the beginning of the restaurant Æolia , the downstairs portion was a horse stable while the upstairs was a stop-over between the two adjacent Villas of Costozza - Villa Da Schio and Villa Trento-Carli. Like the lobby of a large hotel, guests would arrive in carriages and be greeted and escorted upstairs in the Aeolia Hall for refreshment while the horses were cared for below.
The name "Æolia" comes from the Greek mythological "God of the Wind", Eolo. The cellar at the Æolia (known as the "Jail of the Wind") is decorated with many frescoes dedicated to Eolo.
The frescoes of the Aeolia Hall were painted in the sixteenth century, and are attributed to the painting mastery of Zellotti and Fasolo, who at the time were students of the Veronese. The frescoes represent the planets, the solar system, and the signs of the Zodiac. The four niches in the hall represent the four seasons.
In the center of the dome Eolo reigns supreme. Before the Napoleonic siege the walls were covered in frescoes . The walls are now covered in marble arranged in a geometrical pattern to replace the frescoes which were maybe stolen by Napoleon's troops during their siege.
The cellar is the fulcrum of the Æolia . It is connected with underground tunnels, hundreds of meters long, which carry the air at a year-round temperature of 10-14 degrees Celsius. At the entrance to the cellar, an inscription is carved:
ÆOLUS HIC CLAUSO VENTORUM
CARCERE REGNAT
ÆOLIA
Eolo, King of the Wind is closed in this prison and will reign.)
In fact, if you open the main door of the cellar, the wind will escape!
Many famous guests have sojourned at the Æolia over the years.
Galileo Galilei, astronomer, 400 years ago while he was a guest of the Magnate Francesco Trento and teaching at the Universities of Padova and Venice, mentioned in his memoirs the acute lumbago and rheumatism he picked up at the Æolia and which remained with him for the rest of his life.
Andrea Palladio, architect who designed many of the historical buildings in the Veneto region, spoke of the ingenious air conditioning system; Mantegna, artist, also a guest of Francesco Trento, was responsible for the frescoes in the upstairs hall.
Orazio Marinali, sculptor, was also a guest of Francesco Trento. He later constructed a sculptors workshop at the adjacent Villa Da Schio

Last Update: